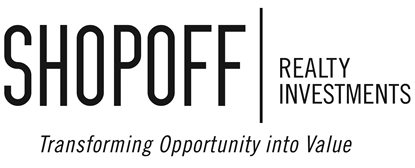 Risk Factors
Investing in Shopoff Realty Investments limited partnerships involves a high degree of risk, including the possible complete loss of your investment. In addition to being an illiquid investment with an uncertain liquidity date, these investments may have other risks involving:
Uncertainties in the real estate entitlement process, which may result in increased costs, delays, and risks of ownership of the property.
Uncertain or weak general market conditions relating to the future disposition of properties.
Possible unforeseen costs or liability associated with the properties.
Competitive pressures on selling price.
Possible conflicts of interest.
Uncertainty regarding future taxes.
The past performance of any of Shopoff Realty Investments' Limited Partnerships is no guarantee of future results.
- - -
Shopoff Realty Investments
Corporate Headquarters
18565 Jamboree Road, Suite 200
Irvine, California 92612
Main: 949–417–1396
Fax: 949–417–1399