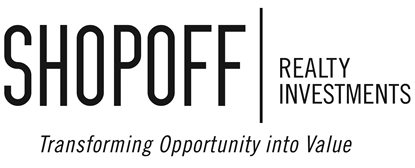 About the Firm
Shopoff Realty Investments is a private real estate investment company with a proven track record of creating wealth for our investors — and a singular commitment to placing their needs above all else.
Our Key Values
The trust placed in us by our customers
Our ability to create value in our acquisitions
Our integrity and responsibility to our customers
Our team consists of investment specialists who work diligently to balance risk and return on behalf of our investors. Even by doing so there is no guarantee of favorable results. We offer clients a broad choice of strategic investment options, including individual residential and commercial properties, land opportunities, and mortgage products, each designed for potential long-term returns.
Above all, Shopoff Realty Investments is uniquely committed to serving our clients. Our investors' financial safety, comfort and success are top priorities. They enjoy direct access to William A. Shopoff and our management team, and our company is founded on establishing trusting, long-term relationships. As a result, many of our investors have been with us for more than a dozen years, and more than 80 percent have invested in multiple projects.
- - -
Shopoff Realty Investments
Corporate Headquarters
2 Park Plaza, Suite 700
Irvine, California 92614
Main: 949–417–1396
Fax: 949–417–1399